Around the Corner: Winedown – By: Pilot Independent
The inspiration for the WineDown Wine Bar in downtown Walker came to owner Kim Walters from a spot as far south as you can drive and still be in the U.S. — Key West, Fla.
"I came upon this cute little house on Duval Street, where all they served was wine and charcuterie boards," she recalls. (Charcuteries are artistically arranged platters of cured meats, cheeses and finger foods.)
Back home in Minnesota, the concept of opening a wine bar in Walker gradually grew and evolved in Kim's mind — until the fall of 2018, when the location she'd envisioned opened up, at 411 Minnesota Ave. West.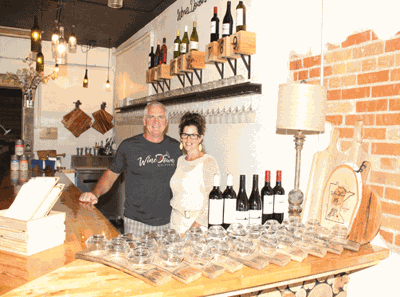 As if to confirm that she was on the right track, around the same time Kim happened to find 12 wine barrel chairs and four wine barrel tables in a shed in Laporte. That did it.
"I knew it was  time!" she jokes.
In March 2019, Kim, partner Tom and Kim's son Clinton began the hard work of creating a wine bar in a long, narrow retail space that, over the years, had housed an antique shop, picture framing business, computer repair service and even a wild bird store.
Her goal was "to keep it all very simple" — and to do everything in threes, both as a tribute to her three sons and to follow the "Rule of Three."
The Rule of Three is based on the principle that things that come in threes are inherently more satisfying and more effective than any other numerical grouping.
WineDown features nine wines in three sets of three, three food boards, three beers, etc. Wine varieties changed monthly.
While Kim chooses her wines, in part for their taste, she takes other characteristics into consideration, too: small boutique wineries; the look of the bottle; the wine's color; how it pairs with other wines in a flight; and the time of year.
Plus, "I always keep in mind our customers and what they like!"
WineDown is a walk-in bar, but they also take reservations. The back room can be set up for special events such as bridal showers, birthdays and anniversaries. Kim has hosted dinners with wine pairings that feature local chefs.
Despite the upheaval caused by COVID-19, Kim reports business has been very good and steady this year.
"I was expecting to have the back room booked with special events pretty much every weekend, but because of COVID, that has not happened. Despite that, we couldn't have done this without the local support we've had throughout our whole first year of business!"
WineDown, located at 411 Minnesota Ave., next to Village Square, is open Monday through Saturday, 3-9 p.m., from April through December.
To make a reservation or for more information, call (218) 547-6705, or visit them on Facebook.