Around the Corner: Bayside Bar & Grill: By: Pilot Indendent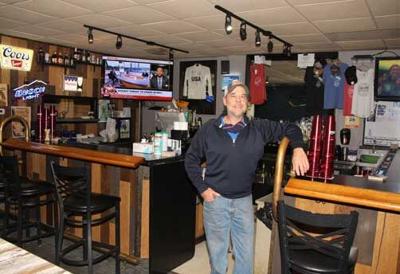 Bayside Bar and Grill sits beneath the most recognizable landmark on main street in Walker: a giant pelican perched atop its roof, keeping vigil over town. It had been painted over by a previous owner, but when Tom Moran purchased the building in 2013 he restored it to its former glory and proper colors.
Moran purchased his new business after working for years in shipping as well as at the well-known Corner Bar located in Bemidji's Nymore neighborhood.
His philosophy was simple: create a comfortable place where people can get delicious American fare, and an abundance of tap, bottled, tall-boy beers and cocktails.
"I wanted to build a menu around a fresh ground and never frozen top-shelf burger," said Moran. "I wanted to offer something that wasn't available in Walker and seeing that I was driving from south Bemidji anyway (where he lives) I knew Stittsworth Meats offers fresh ground chuck. Perfect for big juicy burgers."
Moran's philosophy has paid off several times over. In 2014 Walker Home Center started the Walker Burger Battle that took place in the summer every year, except 2020 due to COVID-19. The event is a fundraiser for the Walker Area Community Center. Bayside has been a favorite every single year they participated in the event.
In 2016 Bayside won the Judge's Choice Award with their Turkey Bomb, a turkey, bacon and pepperjack sandwich on a pretzel bun piled high with lettuce, rooster-mayo and pico de gallo.
In 2017 they won the People's Choice Award with their most popular sandwich, the cheesesteak. Made with shaved ribeye on a toasted hoagie, onions and American cheese, it's drizzled with made-from-scratch beer cheese.
In 2018 they won the People's Choice Award again, this time with their  jalapeno popper burger, a half-pound burger with a cream cheese, jalapeno, bacon spread with pepperjack cheese on a pretzel bun.
In 2019 Bayside won the People's Choice Award for the third time with their Hot-Toddy burger, a half-pound burger, pepperjack cheese, bacon, onions and jalapenos on an egg bun also drizzled with beer cheese.
Bayside's  four trophies sit in the front window at Bayside Bar and Grill.
After purchasing the space Moran made a few changes to the dining room by extending the bar, adding a pass-through window to speed up ticket times as well as putting in a new staircase to the basement where the walk-in cooler and freezer are located.
The building itself is over 100 years old. In years past it has served as a cafe, a restaurant and even as a gathering place for kids after school. Painted pictures on the foundation in the basement depict kids at play with musical notes adorning the illustrations, serving as an artifact that spells out a portion of the Bayside story.
Those little characteristics are quirky, adding to the building's allure, spelling out its story as well as its place within the history of Walker which extends back to the 19th century with an almost old-world  English pub atmosphere.
The word "Pub" is short for Public House — a British expression suggesting a place where all are invited, all are welcome. At Bayside Bar and Grill, there is a standing invitation to come inside and break bread; and if you're not from Walker, you'll wish you were after you leave.