Around the corner: Art & Antique Mall of Walker: By: Pilot Independent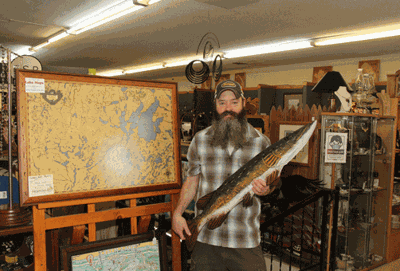 With around 80 artists, crafters and antique vendors located under one roof, you can be pretty sure The Art and Antique Mall of Walker will have something so unique, so exquisite, that you just can't leave without it.
And if that "find" happens to be a perfect photo, print, painting or other creation, you can get it framed at Heritage Custom Framing, conveniently located at the rear of  the Mall.
Six years ago this September, Joel Mensch bought the Art and Antique Mall from the previous owner Marcy Hanson, who had decided to retire. He then moved Heritage Custom Framing, which he'd owned for eight years next to Village Square, across the street to the Mall.
Gradually, he expanded the antiques area on the lower level, until all 8,400 square feet of what once was Coast to Coast Hardware (and before that, B&B Dime Store) were  occupied.
Around every corner, there's  something that catches the eye: custom-made jewelry, wood furniture, fabric art, hats, gloves, toys,  metalwork, clever repurposed items,  handmade leather goods, pottery, local authors, chain saw carvings and woodworking, Native American arts and crafts, handmade candles and soaps, handmade doll clothes — and the list goes on.
"We have what the big box stores don't have," Mensch  summarizes.
On the lower level, antique vendors have turned the space into a regular "Remember When" diorama that everybody wants to visit and reminisce about.
"It's just like a museum!" is a remark Mensch hears a lot from delighted browsers. Only in this museum, he quickly points out, "Everything is for sale!"
The variety and quality of the art, handicrafts and antiques offered by the Mall's vendors reflect Mensch's artistic background and skills. He has a degree in graphic design from the Art Institute of Minneapolis,  which comes into play when artists or crafters ask about leasing space.
"I'm always looking for new and different talents," he explains. "It's a one-man  jury — me — that decides. I ask for samples of the vendor's work, so I can be sure it's a good fit, can check the quality and be sure it complements the store."
He must have a keen eye, since most vendors stay from year to year. "Maybe there's a 15 percent seasonal change," he estimates.
Thanks to changes in inventory, the Mall attracts lots of repeat customers who come in to see what's new and different. Heritage Custom Framing also  has a loyal following of repeat clients.
After being closed for nine weeks this spring due to the COVID-19 pandemic, Mensch wasn't sure what to expect when his store re-opened.
"We've been pleasantly surprised by sales this summer," he admits.
The Art and Antique Mall of Walker, and Heritage Custom Framing are located at 406 Minnesota Avenue West. The Mall is open Monday through Saturday, 10 a.m. to 5 p.m., and Sunday 11 a.m. to 3 p.m. Look for them on Facebook or call (218) 547-4781.